___________________________________________________________________________________________
Treff-Glocke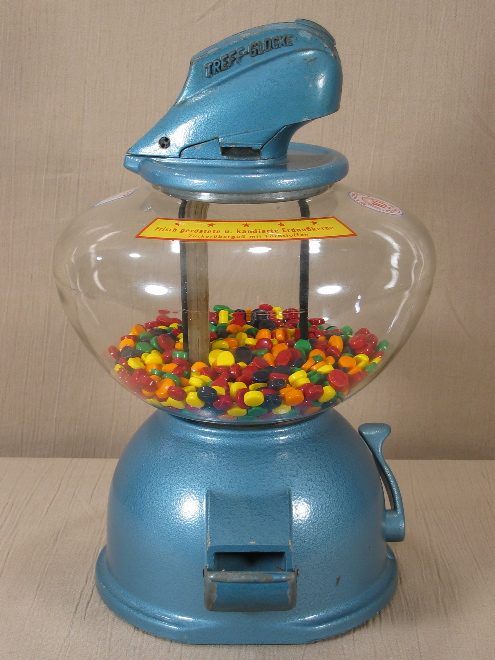 Germany, c. 1950's, 14 1/2". I can't look at this machine without thinking of Flash Gordon. It's a futuristic-looking machine, and that's its appeal.
The structure above the lid is the coin insert, which seems to be more elaborate that it needs to be. The coin is dropped in and, while falling, turns 90 degrees to align with the vertical chute that guides it through the product compartment into the base. That part of the design is interesting, but it seems to me it could have been designed without the need for a 90-degree turn. Once the coin reaches the base, the customer presses the lever on the right and releases it, and a handful of goodies is dumped into his or her hand. The structure on the lid looks to contain at least one slug rejector---perhaps even several---which would explain its size.
The machine is made of heavy cast aluminum and takes a 10-pfennig coin, which is the same size as an American nickel. All of the Treff-Glockes I've seen were painted the color of the machine pictured above. Including the machine above, I've seen only 2 with an original decal. The decals are rather small and uninteresting and are affixed to the flat upper part of the globe. That's too bad, because as neat as the bulbous globe is and as much as the machine has going for it technologically, it's a bit plain-looking and would have benefitted from a great decal.
The example pictured above is 100% original.
___________________________________________________________________________________________
___________________________________________________________________________________________
©Small Vintage Vending 2009