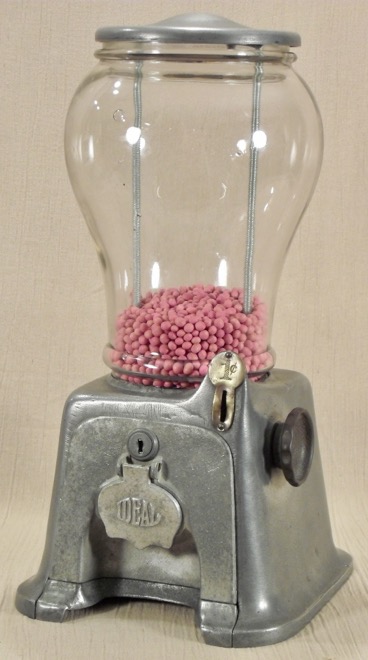 Specialty Mfg. Co., c. 1930, 16". This is an all-aluminum vendor whose claim to fame---according to Silent Salesmen Too---is a spring-loaded gate. That was apparently a key part of their claim to "dustproofness" (or is it "dustproofhood" or "dustproofworthiness?"). They were available in penny and nickel versions, although I've never knowingly seen a nickel version. That must make it SuperUltraMegaRare, at least by ebay standards. The Lion vendor globe is correct on this machine.
An earlier version of the Cold Peanut is pictured in Silent Salesmen Too, page 176. It was made of cast iron, had a dish molded into the front of the base, and had a pull-down lever in front rather than a knob on the side. Specialty also made a Hot Nut version of this machine, which appears to be identical to the Cold Peanut version except for the lid, which in the Hot Nut version contained a heater underneath and a light on top.
The example pictured above left I bought (with the Chiclets) at the Stan Harris auction in 1995, and was my first Ideal. It's mostly original except for the hold-down rods (which I knew when I bought it) and a recast lid and hold-down ring (which I didn't know). The neat feature of this machine is the thin aluminum tray in front, which looks to have been added by a vendor. The example above right is 100% original and is how this model is usually found. The Ideal Cold Peanut is considered desirable, and is not rare but is not easy to find.
___________________________________________________________________________________________
___________________________________________________________________________________________
©Small Vintage Vending 2013